Grand Harbour from the British Hotel Live cam
View of Fort St. Angelo with the cities of Senglea, Cospicua and Birgu in background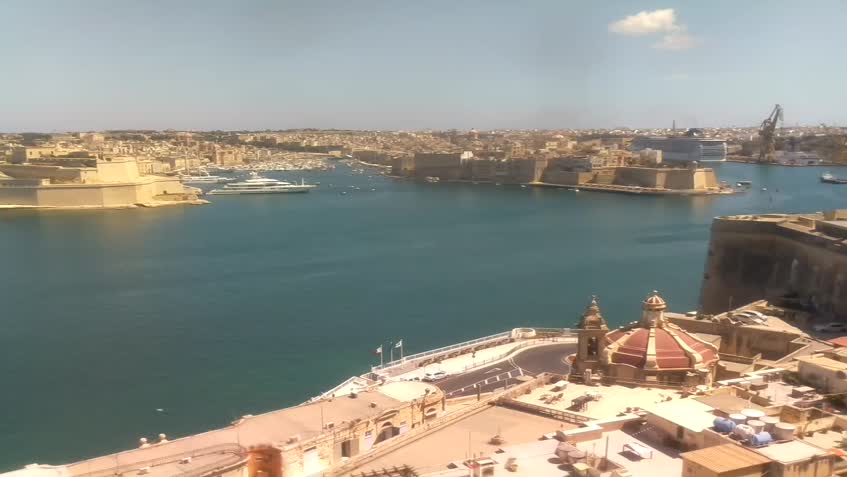 OFFLINE
SkylineWebcams

Webcam


Rate

Rate this webcam

4.4

/

5

-

37

Rating
DESCRIPTION
Grand Harbour from the British Hotel SkylineWebcams
Undoubtedly it is one of the most beautiful natural harbours of the world, the biggest of the Mediterranean, Grand Harbour (Il-Port il-Kbir) is the jewel of Valletta (Il-Belt Valletta); its perfect position in the heart of the Mediterranean makes it the ideal holiday destination for sailing boats, motorboats, superyachts and cruise ships even longer than 300 meters, its magnificence and the enchanting Maltese capital, officially recognized as a World Heritage Site by UNESCO, delight every day hundreds of tourists from all over the world.
Grand Harbour has a rich heritage that led to many changes occurred during its long history, already in use since Phoenician times, small groups of fishers or merchant fleets found here ideal and safe conditions for mooring, this facilitated its progressive development, new docks and wharves were included over the centuries and fortifications built all around; after a brief and unsuccessful control by Napoleon, under the British Military Grand Harbour was massively fortified and became a strategic military base for a long time, moreover a wider entrance, harbour amenities and a greater anchorage were included, Valletta started to enjoy a new era of prosperity focusing mainly on the opportunities given by the multi-purpose Grand Harbour, unfortunately much destruction was caused by the WWII.
Today modern yachts and cruise ships have given a new maritime function to this beautiful historic harbour, safe anchorage and high quality services are guaranteed all year round, at the same time they are always surrounded by magnificent panoramic views and prestigious works of baroque architecture...really a great experience! Grand Harbour is bounded by Fort St. Elmi (Il-Forti Sant Iermu), Fort Ricasoli (Forti Rikazoli) and the Sceberras Peninsula, on which Valletta stands, the nearby and enchanting Barakka Gardens (Il-Barrakka ta' Fuq) offer unrivaled views over the entire stretch of the entrance to Grand Harbour, moreover it is enriched by a quantity of wonderful bays, by the picturesque village of Kalkara (Il-Kalkara) and by the fortified Three Cities, that is Vittoriosa (Birgu), Cospicua (Bormla) and Senglea (L-Isla).
The Three Cities are embraced by the fortified Cottonera Lines, built to include the entire area, their tourist attractions and the rich historical and cultural heritage inside the walls are worth a visit. Already built since Phoenician times, their inlets and fortified walls provided the perfect conditions for mooring and protecting Grand Harbour, moreover a home and fortress to almost every people who settled here; rightly considered the cradle of Malta's history and culture, the origins of their palaces, churches, forts and bastions go back to time immemorable.
Something in detail: Vittoriosa has played a significant role thanks to its strategic importance as portual city and the proximity to Fort St. Angelo (Forti Sant'Anglu); as the first home of the Knights Hospitaller of St. John (later Knights of Malta) it still boasts some ancient Knights' residences (auberges) and walls dating back to the 16th century; Senglea, originally an island, was strategically joined to Cospicua, during the Second World War heavy bombardments devasted most of the city but today it still offers superb views especially from the Safe Haven Gardens; the larger but younger Cospicua was the centre of all commercial and military activity, however it suffered extensive damage during World War II that fortunately spared the famous and robust fortifications of Santa Margherita Lines, still perfectly preserved.
Cam online since: 06/01/2013