St. Julian's Live cam
View of St. Julian's and Spinola Bay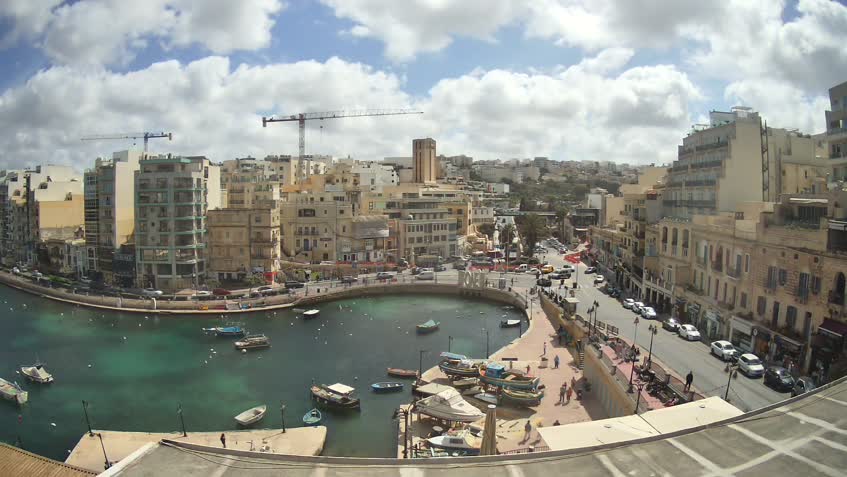 OFFLINE
SkylineWebcams

Webcam


Rate

Rate this webcam

4.8

/

5

-

708

Rating
Looking for a spectacular view of Malta? Search no more! Take a look at our webcam in Malta overlooking St. Julian's Spinola Bay.
Located in the very heart of the island, St. Julian's is one of Malta's largest cities. Major attractions dominate the St. Julian's skyline. Balluta Bay and Spinola Bay are trendy meeting spots for tourists and locals. Unlike Balluta Bay, best for swimming and water sports, Spinola Bay offers a more relaxed scene, traditional boats color the city's landscape. It doesn't get more picturesque than this!
Our St. Julian's live cam provides real-time weather updates in Malta.

Get a live preview of the city's nightlife with this St. Julian's webcam and discover our live cams in Malta.
DESCRIPTION
St. Julian's SkylineWebcams
Just north of Valletta (Il-Belt Valletta), St Julian's (San Ġiljan) is one of Malta's main tourist destinations, developed into one of the island's most popular nightlife and entertainment spots, its unique views are of extraordinary beauty.
Originally a small port town located between Spinola Bay and Balluta Bay, through the years St. Julian's developed as an exciting key reference point for tourism in Malta, its offer meets even the most demanding needs, hotels of quality, restaurants and fashionable nightclubs are scattered everywhere but mainly located in the Paceville district, the lively heart of the nightlife area. But St. Julian's is also a great destination for relaxing holidays away from the busy chaos of the city center, an unique experience will be for locals and tourists to breath fresh air on a golden sand beach with a blue sky and the entire Spinola Bay in the background while enjoying the sun or to walk along the elegant seaside promenade (that reaches the nearby city of Sliema) and be completely enraptured by the beauty of a multicoloured sunset; shined brightly at night, St. Julian's offers the unique opportunity to experience a romantic dining under the stars with spectacular views over the bay...The city still keeps intact its origins of picturesque port town jutting into the Mediterranean Sea, animated by the coloured traditional Maltese fishing boats (Il-Luzzu).
St. Julian's boasts a number of must see tourist attractions, such as the Spinola Palace, a masterpiece of Latin architecture built in 1658 by the Italian knight Giovanni Spinola and located in the heart of the Paceville district, the old parish church that was pulled down, reconstructed anew in 1593, rebuilt and much more decorated than the previous one in 1730, or the breathtaking views from Villa Dragonara, today Dragonara Casino, on the headland of St George's Bay; as St. Julian's enjoys idyllic weather conditions year-round, it is a haven for water sports enthusiasts, diving, snorkeling, swimming, parasailing, wakeboarding while enjoying magnificent views of the Mediterranean will offer moments of pure emotions.
Cam online since: 01/12/2013