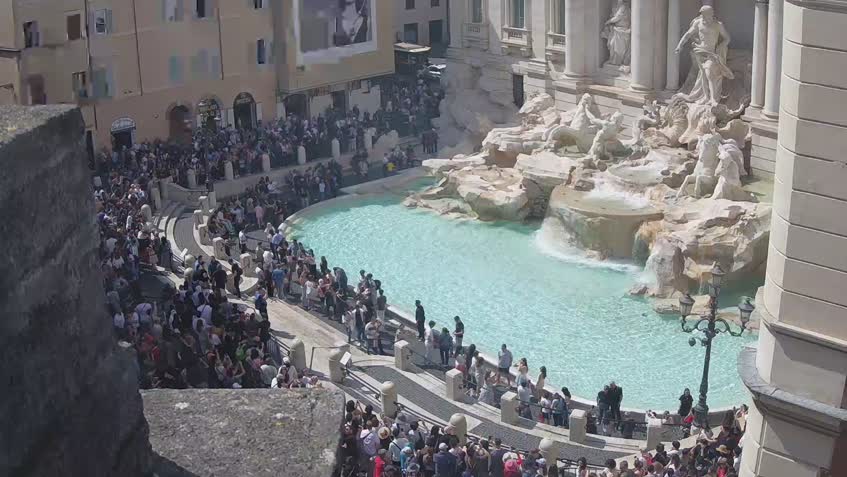 OFFLINE
SkylineWebcams

Webcam


Rate

Rate this webcam

4.7

/

5

-

1763

Rating
This webcam overlooks the Trevi Fountain (Fontana di Trevi) in Rome, Italy. If you're planning a trip to Italy, don't miss this iconic piece of Italian architecture. Built under Pope Clement XII and supplied by Rome's Aqua Virgo aqueduct, the Trevi Fountain is one of the Eternal City's most charming corners. Bernini depicts Ocean upon a chariot driven by two winged horses and led by two mermen.
Just a few minutes away from the Colosseum, the Trevi Fountain will leave you breathless.
Enjoy our Trevi Fountain live webcam and watch as tourists throw coins into the fountain.

P.S. Discover other amazing attractions via our live cams in Rome!
DESCRIPTION
Trevi Fountain - Rome SkylineWebcams
The Trevi Fountain, an iconic masterpiece and expression of late Baroque architecture, is one of the most illustrious and world renown symbols of the Italian capital city. Standing circa 26 meters tall and 49 meters wide the Trevi Fountain dominates one of Rome's most vibrant, tourist-filled cobblestone squares.
Although subject to continuous renovations during the centuries, its modern-day design, inaugurated on March 22nd 1762, brings to life the Bernini-inspired sketches of Roman Architect Nicola Salvi. A competition was held for the final renovation of the Trevi Fountain, Salvi's project was chosen by Pope Clement XII and construction officially began in 1732. Architect Giuseppe Pannini brought the project to completion after Salvi's premature death; given the fountain's complexity numerous artists were involved in the making!
The origin of its name is commonly linked to Rome's well-known Aqua Virgo aqueduct, dating back to 19 BC, wanted by Marcus Vipsanius Agrippa. The Latin word 'trivium' (Treio) indicates, in fact, a crossroads, specifically the coming together of three roads; the fountain itself marks the aqueduct's exact ending point which is located at the intersection of Via De' Crocicchi, Via Poli e Via Delle Muratte.
The large rectangular basin with rounded corners – captured by our live webcam - collects water flowing from different points, in the middle a magnificent statue of Oceanus emerges as he stands atop a shell-shaped chariot driven by two winged horses each led by two mermen; the horses represent the ever-changing mood of the sea, one calm and tranquil, the other violent and restless. Two smaller side niches feature Abundance and Health while four smaller allegorical statues symbolize the four seasons. The Trevi Fountain was made almost entirely of travertine stone, collected in Tivoli, a few miles east of Rome.
While visiting Rome, this timeless beauty is hands down "a must see". Start admiring the Trevi Fountain with our live webcam!
Fun facts
Did you know that tossing a coin into the Trevi Fountain will guarantee a return trip to the eternal city? Well at least that's what the legend says! An astonishing average of 3,000 euros is collected per day and devolved to a national charity. Also, the fountain's fame skyrocketed with Fellini's 1960 "La Dolce Vita", haven't seen it yet? Hurry, it's an all time classic!
Cam online since: 02/15/2014