Grand Harbour Entrance from the British Hotel Live cam
View of the Grand Harbour entrance and Fort Ricasoli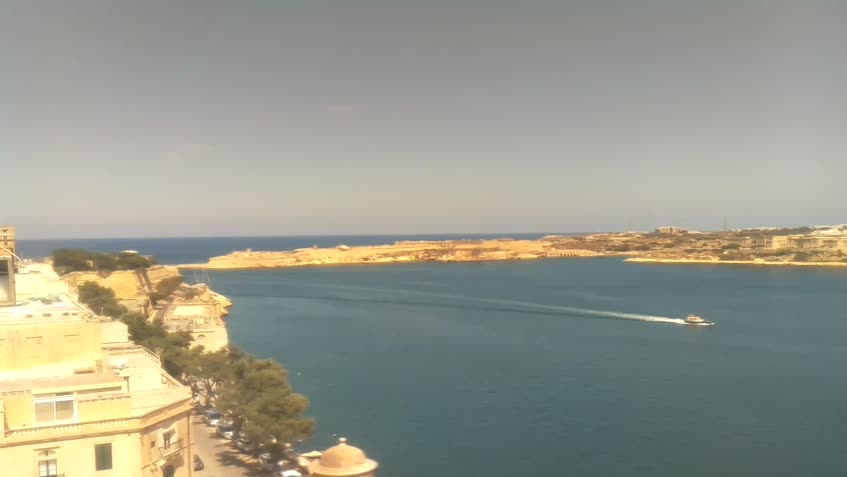 OFFLINE
SkylineWebcams

Webcam


Rate

Rate this webcam

4.7

/

5

-

98

Rating
DESCRIPTION
Grand Harbour Entrance from the British Hotel SkylineWebcams
Grand Harbour (Il-Port il-Kbir) is one of the most beautiful natural harbours in the world, a gem for the Mediterranean and a prestigious landmark for the Maltese capital city.
Already in use since Phoenician times when it already offered the ideal and safe conditions for mooring, this harbour has been the base for the Knights of St. John, was greatly improved over the centuries with docks and wharves and finally massively fortified during the period of the British Military, today it appears as one of the most important destinations and luxury marinas for sailing boats, motorboats, superyachts and cruise ships even longer than 300 meters.
Grand Harbour is bounded by Fort St. Elmo (Il-Forti Sant Iermu), Fort Ricasoli (Forti Rikazoli) and the Sceberras Peninsula, its predominant position in the heart of the Mediterranean made it a strategic military base for a long time but at the same time too exposed; as a consequence Napoleon and his fleet sailed into Valletta's Grand Harbour at the end of the 18th century, after his brief and unsuccessful occupation that led to a drastic decrease of traffic, Malta became years later a British colony, tangible reminders of the British colonial rule are today many splendid fortifications, bastions and towers all around; British have truly left their mark with a wider entrance, harbour amenities, a greater anchorage, new houses, structure and churches were rebuilt, Valletta started to enjoy a new era of prosperity focusing mainly on the multi-purpose Grand Harbour; unfortunately it was savagely bombed during World War II by Italian forces that caused much destruction. Today Grand Harbour offers safe anchorage in all weathers and high quality services, it encloses the wonderful city of Valletta, officially recognized as a World Heritage Site by UNESCO and visited every day by a multitude of tourists from all over the world.
The southeast side is embellished by a number of inlets and promontories, the picturesque village of Kalkara (Il-Kalkara) and by the fortified Three Cities, that is Vittoriosa (Birgu), Cospicua (Bormla) and Senglea (L-Isla); on the left side of the Grand Harbour entrance and on the opposite side of Fort St. Elmo is located the above-mentioned Fort Ricasoli, a large fortification in the promontory known as Gallows Point built by the Knights of Malta at the end of the 17th century and named after its main financier, the Italian knight Giovanni Francesco Ricasoli; originally constructed to give protection to the Grand Harbour, it was active during the British rule but suffered greatly during the Second World War, much of the entire structure was damaged, the evidence of its so fascinating remains are still visible all around, however it enjoys wonderful panoramic views over Valletta and its surroundings.
Just for curiosity: Fort Ricasoli and its walls have been chosen and used as a filming location for successful films such as Gladiator, Agora, Helen of Troy and Julius Caesar.
Cam online since: 06/01/2013