Bell tower at the Capitoline Hill in Rome Live cam
View of the bell tower at Capitoline Hill, the baroque façade Santa Maria della Consolazione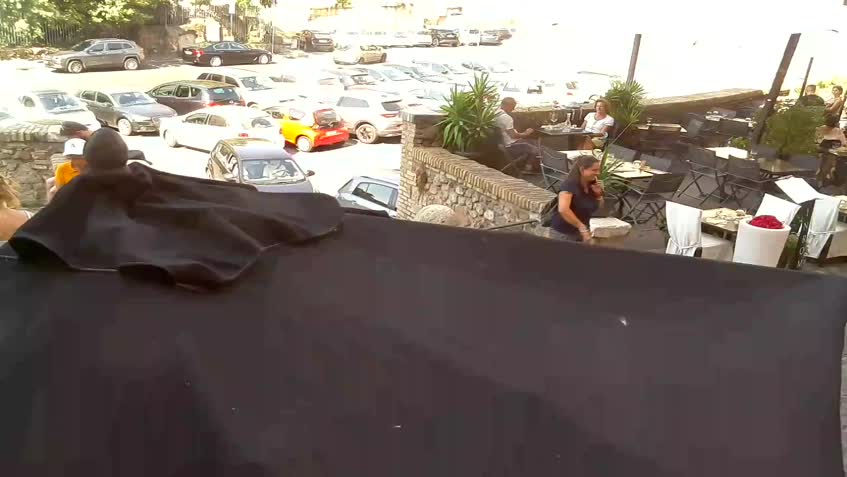 OFFLINE
SkylineWebcams

Webcam


Rate

Rate this webcam

4.7

/

5

-

6

Rating
DESCRIPTION
Bell tower at the Capitoline Hill in Rome SkylineWebcams
This live webcam offers a view on Rome's Santa Maria della Consolazione, a Roman Catholic church erected in 1470. The church was built at the foot of the Palatine Hill and of the infamous Tarpeian Rock, an actual execution site used during the Roman Republic. The cliff  is located on the southern summit of the Capitoline and can still be seen today from the church. Santa Maria della Consolazione dates back to 1385 when a convicted nobleman, Giordanello degli Alberini, left precise indications in his will: an icon of the Virgin Mary was to be painted on a wall underneath the Tarpeian Rock and clearly visible from it. The purpose of the icon was to offer solace and consolation to those that, like himself, would be sentenced to death. The name of the church is undoubtedly associated with this anecdote. Condemned traitors, murderers, perjures and slaves were literally tossed to their death from the 25 meter precipice that is the Tarpeian Rock, a brutal death reserved for those judged faulty of dishonorable actions. Some believed that a similar fate was suffered by the mentally and physically disabled, thought to be cursed by the Gods; this theory was never confirmed. The image of the Virgin Mary was meant to offer these individuals comfort in the very last moments of their life.
The church was reconstructed between 1583 and 1606 by Architect Martino Longhi the elder, the façade was terminated in 1827 by Architect Pasquale Belli gaining its present-day aspect.
On the left of Santa Maria della Consolazione, viewers will find a bell tower belonging to Palazzo Senatorio located on Rome's Capitoline Hill, currently housing City Hall.
Curious to learn more? Start with our live cam and enjoy a great view of the bell tower and of Rome's Santa Maria della Consolazione now!
Fun Facts
According to Roman mythology, the Tarpeian Rock gets its name from Tarpeia, one of Rome's Vestal Virgins, keeper of Vesta's (godess of the hearth, of the home and of family) sacred fire. Tarpeia was the daughter of Roman commander Spurius Tarpeius; the legend narrates that while Rome was under attack by the Sabines, the virgin approached the enemy camp and promised access to the eternal city in exchange for "what they bore on their left arms". Tarpeia expected to receive golden bracelets, but instead was buried under enemy shields. Tarpeia was crushed to death and her body cast from the southern edge of the Capitoline. From that point on the cliff (where others, instead, believe she was buried on) took the name of Rupes Tarpeia.
A local tale recounts of a miracle that took place in 1470, a young man, whose identity remains unknown, had been sentenced to death and hung, but unbelievably did not die. The famous image of the Virgin Mary had spoken to him and said: "go, you are consoled". Santa Maria della Consolazione was built that same year and partly financed thanks to donations.
Cam online since: 05/21/2014