Valletta from the Fortina SPA Resort Live cam
Panoramic view of Valletta from Tigné Point's seaside promenade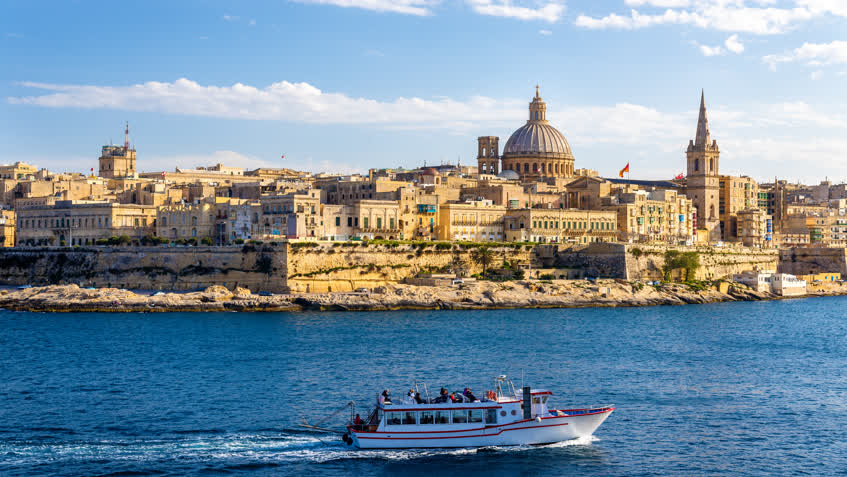 OFFLINE
SkylineWebcams

Webcam


Rate

Rate this webcam

4.7

/

5

-

4

Rating
DESCRIPTION
Valletta from the Fortina SPA Resort SkylineWebcams
Valletta (Il-Belt Valletta), the wonderful capital of Malta, is a baroque jewel of incomparable value declared a World Cultural Heritage Site by UNESCO due to its extraordinary cultural heritage conservation.
Its origins are inextricably linked to the Knights Hospitaller (later Knights of Malta) who have built the city on a rocky area known as Sceberras Peninsula; Valletta (from latin: 'Humilissima Civitas Valettae, Umilissima Città di Valletta') was named after the Grandmaster of the Order of Saint John, Jean Parisot de la Valette who laid the first stone; superbly located in the heart of the Mediterranean it is the key to its rich history and development, this stunning fortress-city grew rapidly and became the center of the maritime commerce enriched by its two famous harbours Grand Harbour (Il-Port il-Kbir) and Marsamxett Harbour (Il-Port ta' Marsamxett) both partially damaged, as a large part of the city, during the Second World War; the British Royal Navy settled here until 1979 and contributed to make them two of the most fortified and safest harbours in Europe, most cruise liners dock here. Valletta plays today an interesting role as a bustling and active admnistrative, commercial, tourist and cultural center, it's not by chance that it has been chosen as European Capital for Culture for 2018.
Valletta offers an invaluable historic heritage and breathtaking panoramic views among the richest in the world; the must-see attractions include the St. John's Co-Cathedral (Kon-Katidral ta' San Ġwann), the majestic Grandmaster's Palace with its impressive tapestries, today House of Parliament of the government of Malta (both dating back to the 16th century), old bastions and fortifications such as the Fort St. Elmo (Il-Forti Sant Iermu), the Auberge de Castille (Il-Berġa ta' Kastilja), the National Museum of Fine Arts or the Sacred Infirmary, the Knight's hospital. Valletta retains a timeless atmosphere, it is a pleasant mix of ancient and modern where picturesque cafès, old monuments, noble palaces and unnumbered churches, fashion clubs and unrivalled gardens are scattered everywhere. Noteworthy are the Barakka Gardens (Il-Barrakka ta' Fuq), originally the private gardens of the Knights of St. John, directly overlooking on Grand Harbour, Marsamxett Harbour and Cottonera Lines, an imposing line of fortifications surrounding the Three Cities of Vittoriosa (Birgu), Cospicua (Bormla) and Senglea (L-Isla); the tourist offer of Valletta also includes a number of sports and recreational activities as well as concerts, events and a dynamic nightlife also centred along the Valletta Waterfront in Floriana (Il-Furjana), a magical place recently renovated with stunning views on the Senglea fortifications.
Not so far, the city of Sliema and its Tigne Seafront offer stunning views on Valletta, all visitors will be carried away by a whirlwind of pure emotions.
Cam online since: 06/07/2013