Marsaxlokk Live cam
View of the Marsaxlokk bay with its seaside promenade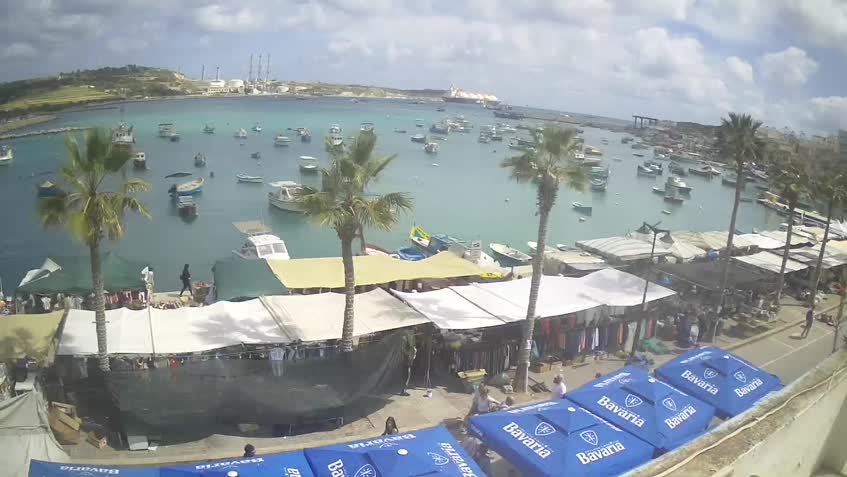 OFFLINE
SkylineWebcams

Webcam


Rate

Rate this webcam

4.8

/

5

-

109

Rating
DESCRIPTION
Marsaxlokk SkylineWebcams
Marsaxlokk is a picturesque fishing village in the south-eastern part of Malta, after all its name is related to the dry sirocco blowing from Sahara.
For a longtime an ideal place of refuge with waters deep enough to anchor, it was firstly inhabited by Phoenicians who landed here during the 9th century BC; today it certainly is worth a visit, walking through the sea scented streets while enjoying unforgettable views of the bay will be a great experience!
Dependent on tourism as source of revenue, Marsaxlokk also boasts a thriving fishing industry with a port that is one of the largest and prettiest in Malta; the daily catch is usually distributed to other Maltese areas but also directly retailed on the quay in occasion of the famous fish market taking place on Sunday and attracting locals and tourists from all over Malta; the fish market may be a good opportunity to closely appreciate the brightly colourful and traditional fishing boats 'luzzus' (Il-Luzzu), that make Marsaxlokk famous around the world; painted or carved on the bow of these solid wooden boats, the so-called Eyes of Osiris are believed to protect the boats and their fishermen from danger and misfortunes; the lovely seaside promenade allows both visitors and locals to enjoy them moored in the bay or scattered hither and thither, their bright colours, especially in the sunshine and at sunrise, create so wonderful light effects that we all will be totally captured by the extraordinary beauty of the bay, really a great emotion; this contributes to make Marsaxlokk the ideal place to stay and relax, its streets, old houses and surroundings give a sensation of peace and quitness that let it still retain that typical fishing village atmosphere. Marsaxlokk originated as a fishing village, however it still retains much of its charming origins to this day blending with a plenty of modern facilities and excellent fish restaurants, most of them lined up the picturesque promenade, enjoying the smell of fresh seafood or delicious chef creations while wandering around will be really fantastic, moreover it will be extremely easy to encounter fishermen marked by fatigue unloading the catch, sewing their nets or repairing their luzzus and have a little talk with them.
Marsaxlokk offers some must-see attractions that shouldn't be left off our Maltese itinerary such as the stunning Church of Our Lady of Pompeii, between its two towers stands the statue of the Virgin in a traditional luzzu boat overlooking the bay or, for snorkelling and swimming lovers, the splendid Blue Grotto (Taht il-Hnejja) and the clear waters of St. Peter's Pool while for nature lovers will be a great pleasure to visit the hill of Tas-Silġ, which contains remains of megalithic temples, but it doesn't end here...other two places of interest and tourist attractions are the St. Lucian Fort (Torri ta' San Lucjan), built in 1610 by the Knight of St. John and the wonderful Fort Delimara (Fortizza ta' Delimara), constructed in 1881 by the British to protect Marsaxlokk.
Cam online since: 07/22/2013