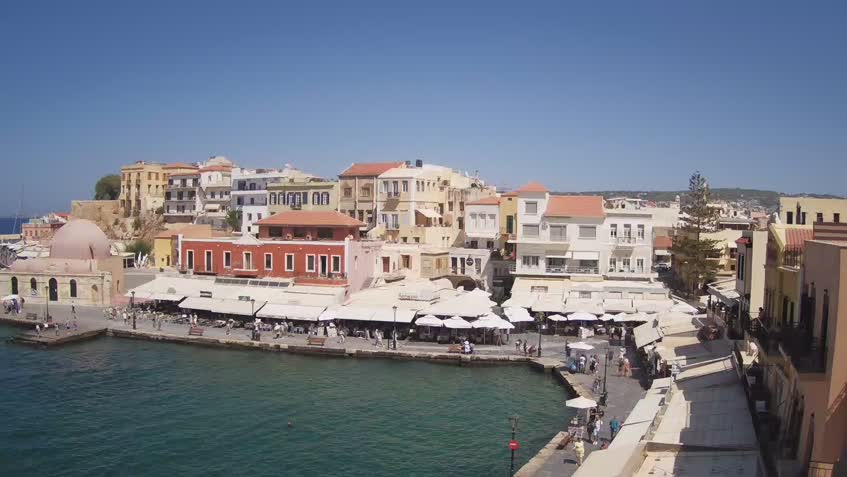 OFFLINE
SkylineWebcams

Webcam


Rate

Rate this webcam

3.2

/

5

-

751

Rating
Our webcam in Chania overlooks the beautiful Venetian harbor.
Located on the northwestern coast of Crete island, Chania is a city of many cultures. Today, it is the second-largest city in Crete after Heraklion and one of Greece's most beautiful and picturesque cities. Unique labyrinthine alleys, beautiful Venetian palaces, fountains, churches, Turkish elements and well-preserved historical monuments fill the old town, giving Chania its own unique architectural style. The 14th-century Venetian harbor is the center of Chania's nightlife. At night, the club lights illuminate the harbor creating a lively atmosphere.
Watch as boats enter the Venetian port with our Chania live cam! Check the weather and click here to discover all our webcams in Greece.
DESCRIPTION
Chania, Old Port - Crete SkylineWebcams
The Venetian harbor in Chania with it's lighthouse is the town's landmark. The old port of Chania was built by the Venetians in the period of colonization in Crete and more specifically between 1320 and 1356, and was an important center for the convenience of the Venetian military navy, as well as one of the most important commercial ports in the eastern Mediterranean.
Entering the port from the west, the first thing you see is the entrance of the harbor and opposite very close to the entrance the lighthouse. In your right you will see the walls of the Firka Fortress built by the Venetians to protect the harbor entrance. When necessary, a thick chain was tied down the Firka Fortress and the opposite base of the lighthouse in order to close the port entrance.
The Giali Tzami, which means in Turkish the 'seaside mosque' ', is the oldest Islamic building in Crete. Part of the south side was destroyed by the heavy bombing by the Germans during the 2nd World War. Today the small interior of the building is used as a place mainly for art exhibitions.
The Hotel Porto Antico is situated in the center of the picturesque old Venetian harbor, as well as 5 min walking distance from the modern center of Chania town. Located in a Venetian style historic building, just opposite the Venetian lighthouse, the hotel provides rooms with wonderful view of the Venetian harbor and the picturesque old town of Chania.
The hotel is recently renovated, retaining the old Venetian style architecture. The hotels privileged location is ideal for visitors who wish to stay in the most beautiful part of Chania town, where a wide variety of sightseeing's is gathered.
Cam online since: 07/15/2016