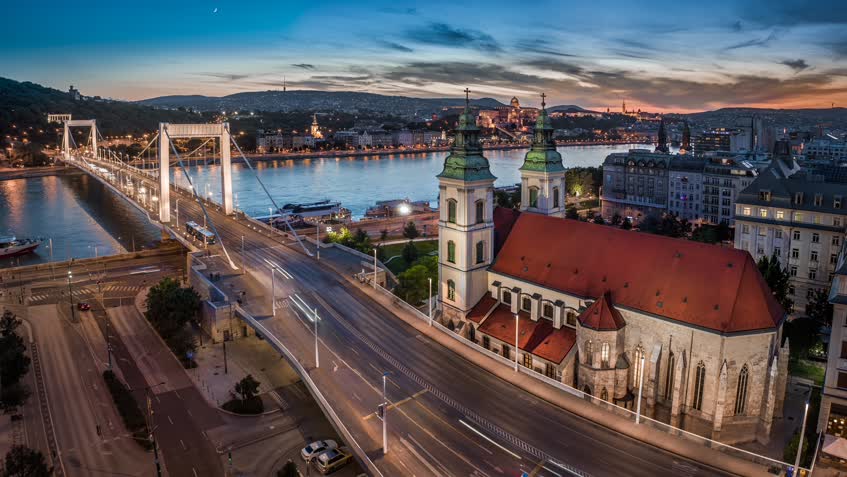 OFFLINE
SkylineWebcams

Webcam


Rate

Rate this webcam

5

/

5

-

4

Rating
DESCRIPTION
Elisabeth Bridge in Budapest SkylineWebcams
Budapest (Budɒpɛʃt), the wonderful Hungarian capital, boasts one of the most beautiful and elegant bridges in the world, the Elisabeth Bridge (Erzsébet híd), named after the popular and admired empress of Austria, Elisabeth of Bavaria, still affectionately known as Sisi (or Sissi), the spouse of Francis Joseph I murdered in 1898 in Geneva; with a total span of 290 meters, the bridge proudly crosses the River Danube and connects the Gellért Hill (Gellért-hegy) in Buda with the Március 15 Square (Marcius 15 ter) in Pest, all visitors at their first experience here will be carried away by a whirlwind of pure emotions.
Destroyed by the Nazi Army at the end of World War II (only the Pest side was partially preserved), the "White Bridge" was the only bridge in Budapest beyond repair deemed too heavily damaged to be reconstructed, consequently a completely new cable-bridge, designed by the Hungarian architect Pál Sávoly, was built between 1960 and 1964 to replace the first one; it was enriched by modern lines and, unlike its predecessor, completely devoid of ornamentation so that it lost definitively its original form and its supremacy as the world's longest chain-type and iron suspension bridge until 1926 (378,6 meters), the lighting has been created by the Japanese lighting designer Motoko Ishii; the construction of the first bridge, designed by Aurél Czekelius and Antal Kherndl, was started in 1897, after an unexpected incident in 1902, it was inaugurated on 10 October 1903, although its size would have enabled a heavy traffic, the first trams and trucks appeared only in 1914; as a commemorative act for the reconstruction of the bridge, two twin plaques have been placed at the southern part of the pillars in Buda and Pest.
Today the Elisabeth Bridge is a must-see in Budapest, its charming shape, its extraordinary simplicity only made up of slender pylons and cables and a snow-white colour attract the well-deserved attention of tourists as well as locals, especially if admired for the first time.
The main attractions of the city also include a large bronze statue sitting in the middle of a stunning garden near the bridgehead, the beautiful monument dedicated to the Empress Sissi, designed by György Zala and Rezső Hikish in 1932 but placed here only in 1984 and the ancient (13th century) Inner City Parish Church (Belvárosi Plébánia Templom) in Pest; the Pest side of the Elizabeth Bridge may be the ideal starting point for a romantic walk along the river through architectural treasures of sophisticated beauty, all around is rich in parks and gardens where to stop for a break while enjoying breathtaking panoramic views of one of the largest cities of the world.
Cam online since: 09/16/2013