St. George's Beach, St. Julian's - Malta Live cam
Beautiful view of St. George's Bay, a Maltese holiday destination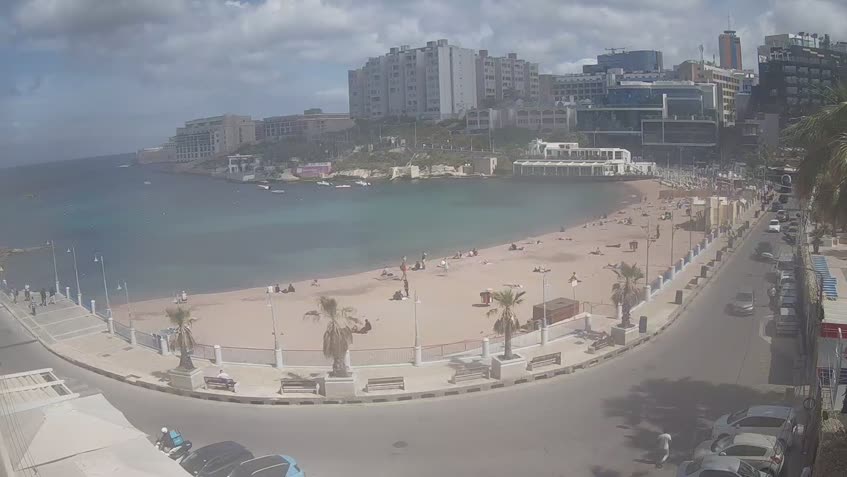 OFFLINE
SkylineWebcams

Webcam


Rate

Rate this webcam

4.3

/

5

-

16

Rating
Our webcam in Malta overlooks the beautiful St. Julian's beach in St. George's Bay.
St. Julian's is a lovely town located on Malta's northeastern coast. Over the decades, it's become quite popular for its rich and buzzing nightlife so much so St. Julian's is often considered the country's top tourist-magnet! Thanks to our live cam in Malta, breathtaking views of St. George's Bay can be enjoyed all year round. This small beach, in the heart of the Mediterranean Sea, is a paradise for leisure and water activities, gifting visitors the chance to relax under the summer sun. Located in the heart of Paceville, the entertainment district, tourists can tour modern clubs and trendy discos!
Check out this St George's Bay webcam in St. Julian's! Don't forget to explore other corners of this unique Mediterranean archipelago with our webcams in Malta.
DESCRIPTION
St. George's Beach, St. Julian's - Malta SkylineWebcams
This small but so stunning beach in St. Julian's (San Ġiljan) belongs to St. George's Bay (Bajja ta' San Ġorġ) situated in the heart of the Mediterranean.
Well known in the whole island for being in the center of Paceville, the nightlife capital of Malta, and Pembroke, this so charming and golden beach gives us the unique chance to relax in summer sun, it is perfect for swimming, even till evening while enjoying a social life and having fun with a number of exciting opportunities. Restaurants, pubs, night-clubs, discos are scattered everywhere and all within a short walking distance, a brilliant atmosphere is offered by day and night, flocks of dancing people, especially younger ones, are attracted by music and fun till sunrise...
Panoramic views of extraordinary beauty and exceptionally warm water make St. George's Bay a paradise for recreational and water activities, moreover it still keeps its traditional features of a fishing town, it will be very easy to see a number of fishing vessels and fishermen on the docks but St. George's Bay was not always so popular and attractive as one of the most visited Maltese holiday destinations, it saw positive development over the years thanks to the growth of the tourist offer rich today in resorts, entertainment centers, luxurious hotels, high quality restaurants, discos and casinos, shopping centers all within easy reach of the golden St. George's beach, recently also a Blue Flag beach and rightly considered one of the most beautiful beaches of Malta; after all, dining in fine restaurants or in outdoor terraces overlooking the whole bay terraces for a romantic rendez-vous, enjoying superb sunrises or being present at a magnificent sunshine will be really a great experience!
Cam online since: 08/20/2013